Laps for Charity at Nashville Superspeedway
Sunday, June 26, 2022
9:00 AM

11:00 AM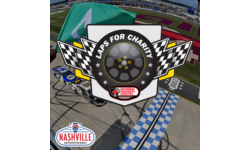 Who wants to warm up the track for your favorite NASCAR Cup Series driver Sunday morning before the Ally 400?
Speedway Children's Charities is excited to launch our Inaugural Laps for Charity event at Nashville Superspeedway! Feel the excitement as you experience three (3) laps, in your personal vehicle, around the same racing surface as your favorite NASCAR drivers hours before the race. 
The price for this event is $60 per vehicle. Participants will take three (3) laps around Nashville Superspeedway behind a pace vehicle. Proceeds from this family-friendly event will help children who are in need. 
Please be in line no later than 10:00 am to gain entry. 
Important Information:
The driver must print and complete the Waiver & Release form. You will present this form when you arrive at the event.
Drivers must be at least 18 years of age and have a valid license.
All occupants of the vehicle under 18 must have a parent present to sign a minor waiver.
Vehicles must be street legal.
All participants MUST wear a seat belt.
Vehicles MUST stay in line and behind the pace vehicle AT ALL TIMES.
For additional information or questions about sponsorship opportunities, please contact Betsy Holleman at [email protected]