Take Home History Jars
Monday, November 6, 2023 -
Wednesday, July 31, 2024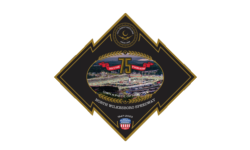 Speedway Children's Charities is excited to offer a limited number of special 'moonshine' jars, containing pieces of the historic North Wilkesboro Speedway track surface. This iconic venue has hosted racing for over 75 years, and we're proud to give fans the opportunity to take home a piece of this special track.
A limited number of these unique collectibles will be offered, with proceeds benefiting Speedway Children's Charities. Purchase one of the sequentially-numbered 500 jars to commemorate the track's racing tradition. Or, purchase a standard edition, contained in its own 'moonshine' jar. These jars may be picked up at North Wilkesboro Speedway or shipped for an additional fee.
Jars will be available in the 1st Quarter of 2024, if not sooner. Everyone who purchases a jar will also receive a certificate of authenticity. 
Don't miss your chance to take home history! For additional information, please contact Taylor Kirby at [email protected].