10th Annual Laps for Charity
Sunday, January 26, 2020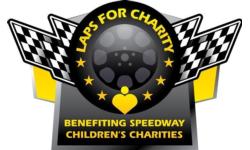 Join us for the 10th Annual Laps for Charity benefiting the Las Vegas Chapter of Speedway Children's Charities. NASCAR fans and car enthusiasts will have the opportunity to drive their personal vehicles around the 1.5-mile superspeedway at speeds up to 75 miles per hour (behind a pace car), all in an effort to raise money for local children's charities. Experience the thrill of a lifetime by driving your car, truck, motorcycle or other street-legal vehicle on the same track as your favorite NASCAR drivers!
Laps for Charity: 1 p.m. to 4 p.m.
It's simple to take your Laps for Charity:
Drivers must be 18 years of age and older
All occupants of the car must be at least 6 years of age or older
The vehicle must be street legal
Drivers must have a valid license
You MUST have seatbelts in your vehicle and wear them
Car Clubs
Get your members together and drive together! You must reserve a time slot between 8 a.m. – Noon for your club to enjoy Laps for Charity. Please contact Paulette Anderson at (702) 632-8242 for reservations.
Car Club Presidents should contact SCC to schedule their club arrival time and must provide the Official Car Club name. All club members will be verified through the car club president to receive special offer pricing.
Victory Lane Photographs
Victory Lane Photo Opportunity #Idrovethetrack! We will provide the one-of-a-kind backdrop for your personal selfies! - just $10.00!
Entry Procedure
When you arrive at Las Vegas Motor Speedway, you will enter our staging lanes through GATE 6 off Las Vegas Blvd. Once through registration and staging lanes, cars will be directed into the Speedway.
From Las Vegas Boulevard:

 

Go past Checkered Flag Lane and enter GATE 6 which will be on your left. Our volunteers will be there to guide you into the staging lanes.
From 1-15:

 

Take the Exit 54 / Speedway Blvd. exit, make a right off the highway and drive down to Checkered Flag Lane. Take a right and follow Checkered Flag Lane PAST the Speedway and go straight to Las Vegas Blvd. At Las Vegas Blvd., make a left and then in a few hundred feet you'll make a left through GATE 6.

This event is a first-come, first-serve event. No general public reservations for specific times will be given, so arrive early to ensure your spot. REGISTER IN PERSON between the hours of 1 p.m.- 4 p.m. (Vehicles must be in line by 3:30 p.m. to go on the track). Laps will take place rain or shine. No food or beverage concessions will be available inside the track. 
Please email panderson@lvms.com or call (702) 632-8242 with questions.