Bristol Burnout
Saturday, July 27, 2019
South Building at Bristol Motor Speedway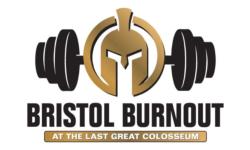 Competition is a way of life at Bristol Motor Speedway – the Last Great Colosseum, and what is better than competing for big cash prizes? Speedway Children's Charities, along with many local CrossFit boxes are excited to announce "Bristol Burnout – at the Last Great Colosseum" on Saturday, July 27 in the South Building at Bristol Motor Speedway. Bring your gladiator mentality and compete for a cause at "Bristol Burnout". Enjoy local health and fitness vendors, area food trucks and local breweries while area athletes compete.
Team Information
Competitor teams of 2 can register for $110 per team (on Jun 1 the price increases to $130 per team) and each competitor will receive branded Bristol Burnout gear along with the opportunity to compete at Bristol Motor Speedway. 
Division Information
Curious about qualifying for the Rx division? Here's a bit of steering to know where you stand in the polls:
- Moderate sets of kipping everything (no MUs)
- Snatch/OHS upwards of 135/95
- Suggested Dead Lift 300/200 but not necessarily required
The below workouts are for the Scaled Division.  The RX division will be a version of the scaled.
1. Drag Strip
Two lanes with 10 bars per lane. 50 sec for each partner to hit a lift. 10 teams going conga line style. Snatch, Clean Or Deadlift.
Scaled
Male 95-265lbs (95-115-135-155-165-185-205-225-245-265)
Female 55-225lbs (55-75-85-105-125-145-165-175-195-215)
One person misses the other partner is allowed to move on.
2. Longest Quarter Miles
For Time: Partners stay together the whole time
20 Bar-facing burpees 
100m Run 
100m Walking Lunges
100m Run 
100m Farmers Carry
100m Run 
100m Front Rack
100m Run 
100m Overhead Carry
20 Bar-facing burpees 
Run to finish 
3. Bristol 300
For Time With Partner:
Calorie Goal
Synchro Gymnastics Movement
Synchro Front Squats
Calorie Goal
Run to Finish
Top 6 Teams will advance to the Championship Workout!
Questions?
For more information or sponsorship opportunities, please contact Betsy at 423-989-6975 or betsy@bristolmotorspeedway.com.