Track Laps for Charity
Saturday, October 21, 2023
North Wilkesboro Speedway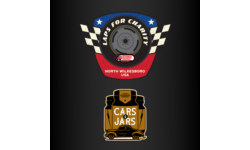 Join us for an opportunity to drive your car on the aged surface of North Wilkesboro Speedway! This will be an event to remember, so sign up early and share with your friends!
This event will be hosted during the Inaugural Cars and Jars Car Show. Proceeds from this event will help support kids in Wilkes County.
For $50, you can take 3 laps around the track. Or, for even more excitement, take six laps around the track for $100.
Event Rules & Information:
All drivers must have a valid drivers license
Everyone must stay in the vehicle at all times
All drivers & passengers MUST wear a seatbelt AND SIGN A WAIVER
NO ALCOHOL
Vehicle must be street-legal
NO Motorcycles
NO PASSING
NO "HANGING BACK" TO SPEED UP TO GROUP
THE PACE CAR WILL SET THE SPEED LIMIT and make every effort to ensure a thrilling experience
If any vehicle in the group violates any of the safety procedures listed, the pace car will pull to the apron and bring the entire group to a stop. The violator will be pulled from the group and escorted from the Track.
*No refunds will be given if your car is pulled from the group for violating the rule
For more information or to learn about sponsorship opportunities, please contact Taylor Kirby at [email protected] or 704-455-4461.