Laps for Charity
Saturday, January 22, 2022
12:00 PM

2:00 PM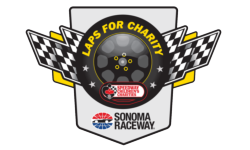 UPDATE: Laps for Charity HAS NOT been cancelled, and will still take place on Jan. 22. We ask that spectators and registrants adhere to social distancing when not in their vehicles and please wear a mask if entering any indoor spaces. 
Give the experience of a lifetime this holiday season, and support children in need! Gearheads and race enthusiasts alike will have the opportunity to drive Sonoma Raceway's famous 2.52-mile road course with all proceeds benefitting the Sonoma Chapter of Speedway Children's Charities (SCC). SCC supports Sonoma County children in educational, social, medical and financial need.
The cost for this event is $125 per vehicle. Each entry includes three laps. led by a pace vehicle, around the Sonoma Raceway road course in your own vehicle. Pace laps are performed at a safe speed and are dependent on weather and track conditions, but typically range from 40-60mph. You will also receive a photo of your car on track. 
It's simple to take your Laps for Charity:
Drivers must be 18 years of age and older
You MAY have passengers in your vehicles over 18-years-old and you must all wear seatbelts
The vehicle must be street legal
Drivers must have a valid license
You MUST have seatbelts in your vehicle and wear them
Each participant MUST print and sign the waiver below
Masks must be worn indoors
For more information about this fan-favorite event, please contact Courtney Kiser at [email protected] or 707-933-3950.