Glittering Lights at Las Vegas Motor Speedway
Friday, November 12, 2021 -
Sunday, January 9, 2022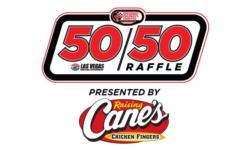 Glittering Lights at Las Vegas Motor Speedway, Nevada's premiere holiday drive-thru spectacular, is back for the 21th year this season. Presented by Goettl Air Conditioning and Plumbing, the dazzling array of festive lights and sounds feature more than 5 million LED lights that intertwines throughout a 2.5-mile course through the speedway.
Open nightly from Nov. 12 through Jan. 9, 2022, Glittering Lights closes when the last car in line drives through. If you pull up and there's still a line of cars, hop in!
Concessions including hot cocoa and popcorn are available for purchase before you enter the light show. Volunteers will deliver the treats right to you, so you don't have to leave the comfort of your vehicle.
Glittering Lights is a drive-through ONLY event. You are welcome to drive slowly, roll down the windows, take photos, turn your music up, but you must stay in the vehicle. No bicycles allowed.
The holiday light show is open Thanksgiving, Christmas Eve, Christmas, New Year's Eve and New Year's Day - rain, shine AND snow! On especially windy nights, please check Glittering Lights on Instagram, Twitter, or Facebook for timely updates.
Glittering Lights has received the Las Vegas Review-Journal Best of Las Vegas award for its free military night programs. The nation's largest drive-through light show spectacular celebrates Veterans and active military, by inviting them to experience the millions of holiday themed lights at Las Vegas Motor Speedway, free of charge.
Speedway Children's Charities receives a portion of each ticket sold. This event, combined with the annual PJ 5K, makes up the largest portion of annual funds for the Las Vegas chapter, which is on pace for a record-breaking year. Over the last 10 years, Glittering Lights has contributed nearly $1 million dollars to the Las Vegas Chapter!
AWESOMENESS:
Santa Selfie Station: Grab your socially distanced photos with Santa for memories that last a lifetime. This ticket includes a meet and greet with the jolly old fellow before embarking on a journey through the millions of Glittering Lights.
Enhanced safety practices: Guests drive through the lights in the safety, comfort and warmth of their personal vehicle. Glittering Lights staff members are masked, temperature checked, and sanitizing on a regular basis.
Contactless Entry: Guests can purchase tickets online in advance and show them to our staff without even having to roll down their car window. Concessions can also be pre-purchased.
50/50 Raffle presented by Raising Cane's: Speedway Children's Charities will be selling 50/50 Raffle Tickets during the event. Your purchase will help support children in our area who are in need!
Raffle Rules:
You must be 21 years of age or older to purchase a ticket
Winner does not need to be present to claim prize
SCC is not responsible for lost or unreadable tickets
Winner has 30 days to claim the prize
There is no minimum and no maximum number of tickets to purchase
Winning number will be selected on Tuesday, Jan. 9 at Noon PT and posted on speedwaycharities.org/lasvegas
For additional information, please contact Paulette Anderson at panderson@lvms.com or call (702) 632-8242.