Laps for Charity
Friday, June 11, 2021
4:30 PM

7:30 PM
New Hampshire Motor Speedway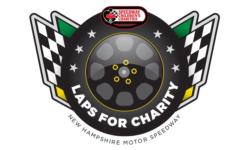 Laps for Charity is your chance to drive your vehicle on one of New Hampshire Motor Speedway's racing surfaces or experience a ride in the official NHMS pace car all while supporting children in need throughout New England! This event will take you on the 1.6-mile road course, which is used by sports car and other racing clubs throughout the season.
Three group laps in your own vehicle or the official NHMS pace car, is $50 per vehicle and includes a photo in victory lane. For those seeking a more exclusive experience, VIP sessions are available for $150 per vehicle and includes the opportunity to be the only vehicle on the road course during your laps plus a photo in victory lane.
If you have questions or need additional information, please contact New Hampshire Chapter Director Danielle Cyr at DCyr@NHMS.com. Remember, your support of this event will benefit the New Hampshire Chapter of Speedway Children's Charities!
Note: We are unable to process donations or event registrations from residents of Mississippi. We hope to have it resolved soon.