Laps for Charity - Oval
Friday, August 11, 2023
5:00 PM

7:30 PM
New Hampshire Motor Speedway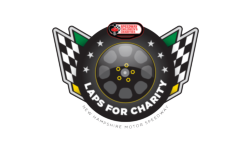 Mark your calendar now and join us at the track! Laps for Charity is your chance to drive your vehicle on one of New Hampshire Motor Speedway's racing surfaces or experience a ride in the official NHMS pace car all while supporting children in need throughout New England! 
On August 11, cars will experience the thrills of our historic oval! Three group laps, in your own vehicle or the official NHMS pace car, is $40 per vehicle and includes a photo in victory lane. For those seeking a more exclusive experience, VIP sessions of five laps are available for $100 per vehicle and includes the opportunity to be the only vehicle behind the pace car during your laps, plus a photo in victory lane.
Important Information:
The driver and any passengers must sign a Waiver & Release form. You can download and print the form or sign a copy onsite when you arrive at check in. 
Drivers must be at least 18 years of age and have a valid license.
All occupants of the vehicle under 18 must have a parent present to sign a minor waiver.
Vehicles must be street legal.
All participants MUST wear a seat belt.
Vehicles MUST stay in-line and behind the pace vehicle.
If you have questions or need additional information, please contact New Hampshire Chapter Director Danielle Cyr at [email protected]. Remember, your support of this event will benefit the New Hampshire Chapter of Speedway Children's Charities!
Registration Opening Soon!