Gift of Lights Presented by Eastern Propane and Oil
Thursday, November 28, 2019 -
Sunday, January 5, 2020
New Hampshire Motor Speedway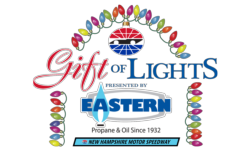 Welcome to our annual winter wonderland! Enjoy the festivities as New Hampshire Motor Speedway is turned into a feast for the eyes.
Admission for the event is $25 per car load. Bring 3 or more non perishable items to be donated to the Loudon Food Pantry and receive $2 off a car load.
A portion of the proceeds benefit the New Hampshire Chapter of Speedway Children's Charities.
Gift of Lights is open on Wednesdays, Thursdays and Sundays from 4:00pm - 9:00pm. On Fridays and Saturdays, the event is open from 4:00pm- 10:00pm. Gift of Lights is closed on Mondays and Tuesdays.
You can have your picture taken with Santa for $5 on the following dates:
November 29th and 30th
December 6th and 7th
December 13th and 14th
December 20th and 21st
The Loudon Fire Fighters Association will be hosting a Smore's Pit on Friday and Saturday nights, donations welcome.
Please note that Gift of Lights will be closed on the following dates:
December 2nd and 3rd
December 9th and 10th
December 25th