Bids for Kids Live Auction
Saturday, July 13, 2019
12:00 PM -

1:30 PM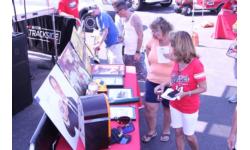 SCC's Live Auction is back! On race weekend at Kentucky Speedway, check out our Bids for Kids Live Auction at the Trackside Live Stage in the Display Area. Because the auction takes place outside of our gates, you do NOT need a race ticket to attend and bid, bid, BID! However, you may need a race ticket for certain race day experiences, as SCC does NOT include these with its auction packages.
SATURDAY, JULY 13, 2019 – NOON-1:30 P.M. EASTERN
Race fans will once again have the opportunity to bid on the chance to take part in race day experiences. Age restrictions may apply, and all winners of these packages must sign a waiver. For certain experiences, a background check will also be required prior to participating.
Details regarding these race day experiences and other auction items will be provided soon.
Bidders wishing to register in advance and shorten their check-in process on the day of the event, please register online by clicking the button below.
---
Contact Dayna Winslette with the Kentucky Chapter for further information -- e-mail: dwinslette@kentuckyspeedway.com; phone: 859-567-3417