Karting for a Cause
Thursday, July 7, 2022
2:00 PM

8:00 PM
Charlotte Motor Speedway Infield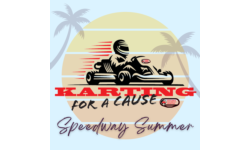 Have you been looking for the perfect opportunity to test your racing skills?
Please join us for our 2nd annual endurance Karting for a Cause event benefiting Speedway Children's Charities on the rigorous infield karting track at Charlotte Motor Speedway as part of SCC Charlotte's Speedway Summer!
Each karting team should consist of 2-6 drivers participating in the 3-hour endurance race.
Each team will receive 60 minutes of practice/qualifying time prior to racing. The Final will consist of 3 hours of continuous racing action with a minimum number of required driver changes. The team with the most completed laps at the end of the 3 hours wins! Awards will be given to the top three teams.
You can register as a team or as an individual. If you register as an individual we will place you on an appropriate team!
Please select your level of experience below so Endurance Karting can place you in the appropriate class. 
Dinner from a local food vendor will be provided to all participants!
EVENT NOTES
• SCC Karting Event will be held rain or shine
• Drivers must be 16 years or older to participate
• Height: 5' to 6'6" - Please note that even some drivers
slightly taller than 5' still may not be able to fit in the
kart and be able to control it with sufficient comfort and
therefore will not be able to compete
• Maximum driver weight is 350lbs
• The driver's ability to safely drive the kart is at the sole
discretion of Endurance Karting
Each participant should print the Event Waiver and bring the signed form to the Registration tent at the event.