50/50 Raffle
Thursday, August 1 -
Saturday, August 17, 2019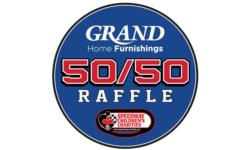 Purchase your chance to win up to $100,000 in the 50/50 Raffle benefiting Speedway Children's Charities. Tickets will be sold online, in Tennessee based Grand Home Furnishing locations, the Bristol Motor Speedway ticket office, and onsite at the Bass Pro Shops NRA Night Race.
Ticket prices:
1 ticket for $10
2 tickets for $15
5 tickets for $20
20 tickets for $50
60 tickets for $100
The winning ticket will be drawn on Saturday, August 17, 2019. You do not have to be present to win, but you must be 18 years of age or older to win.
Now… Take your chance and support kids in need!