Speedway Children's Charities Clay Shoot
Thursday, February 21, 2019
11:00 AM
Cherokee Rose Sporting Resort, Griffin, GA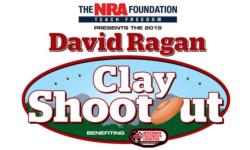 Welcome to a shooter's paradise! Come out and support the Atlanta chapter of Speedway Children's Charities at this year's Clay Shootout. Located at the beautiful Cherokee Rose Sporting Resort in Griffin, Georgia which is just a few minutes from Atlanta Motor Speedway. Cherokee Rose has a beautiful, state of the art sporting clays range that is set among towering pines and beautiful old hardwoods that offer an unending scenery. 
Registration will open at 9:30 a.m. The event will begin with a shotgun start at 11 a.m.
For questions, please contact Juanita Martin at 770-946-3921 or email juanitam@atlantamotorspeedway.com.
Sponsorship Levels
Champion Sponsorship ..................................... SOLD
Recognition as Presenting Sponsor on all event advertisements and promotional materials
Sponsor logo to appear on all signage associated with the event, including: apparel, on-site signs and banners, print literature and SCC Web site
Presentation of participant awards by representatives at tournament conclusion
Opportunity for twelve (12) participants to shoot in the event
Six (6) tickets to the Speedway Children's Charities Suite for the 2019 Folds of Honor QT 500 Monster Energy NASCAR Cup Series race
Exclusive Champion Sponsor signage at one of the ranges premium shooting stands
Opportunity to provide promotional material in the participant gift bags
Victory Lane Sponsorship .................................$10,000
Name recognition on all promotional materials
Opportunity for eight (8) participants to shoot in the event
Four (4) tickets to the Speedway Children's Charities Suite for the 2019 Folds of Honor QT 500 Monster Energy NASCAR Cup Series race
Exclusive Victory Lane Sponsor signage at one of the ranges premium shooting stands
Opportunity to provide promotional material in the participant gift bags
Checkered Flag Sponsorship..............................SOLD
Name recognition on all promotional materials
Opportunity for six (6) participants to shoot in the event
Four (4) tickets to the Speedway Children's Charities Suite for the 2019 Folds of Honor QT 500 Monster Energy NASCAR Cup Series race
Designation as a stand sponsor at one station
Signage along the course
Opportunity to provide promotional material in the participant gift bags
Green Flag Sponsorship ........................................ $3,000
Opportunity for four (4) participants to shoot in the event
Two (2) tickets to the Speedway Children's Charities Suite for the 2019 Folds of Honor QT 500 Monster Energy NASCAR Cup Series race
Designation as a stand sponsor at one station
Opportunity to provide promotional material in the participant gift bags
Lunch Sponsorship .................................................. SOLD
Opportunity for four (4) participants to shoot in the event
Designation as a stand sponsor at one station
Foursome in the Reed Sorenson Charity Golf Classic
Opportunity to provide promotional material in the participant gift bags
Starting Line Sponsorship .......................................$500
Opportunity for two (2) participants to shoot in the event
Designation as a stand sponsor at one station
Opportunity to provide promotional material in the participant gift bags
Stand Sponsorship .......................................$150
Designation as a stand sponsor at one station