Atlanta Barbeque Classic
Saturday, April 27 -
Sunday, April 28, 2019
Summit Racing Equipment Atlanta Motorama at Atlanta Motor Speedway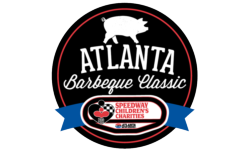 The Atlanta Barbeque Classic is the event you have all been waiting on! This KCBS State Championship cook-off offers fierce competition as participants vie for $10,000 in money and prizes. But it gets even better! The Atlanta Barbeque Classic is paired with the popular Georgia Motoring Festival "Summit Racing Equipment Atlanta Motorama at Atlanta Motor Speedway." Barbeque and all things with an engine, on one of NASCAR's fastest race tracks, makes this an event you don't want to miss. Space is limited to the first 48 applications. Hurry and get registered today. Proceeds from this event go to Speedway Children's Charities, Atlanta Chapter.
For information email BBQCup@hotmail.com or phone 770-886-6290.
---
Rules for our event…
Applications for The Atlanta Barbeque Classic will be taken on a first-paid basis through April 15, 2019 with space limited to the first 48 pro teams.
Teams will be provided with space, water and power indicated and paid for with application. Your trailer and entire set up must fit within the space size indicated on the application. We will not make space changes on site.
Set-up will begin at 8:00 a.m. Friday, April 26 & must be completed by 8:00 p.m. same day. Saturday set ups are available from 7:30 a.m. to 9:00 a.m. and 5:00 p.m. to 9:00 p.m. Winners will be announced at 3:30 p.m. Sunday, April 28, 2019. Teams are asked to remain on site until gates close at 4:00 p.m.
All golf carts or recreational vehicles are prohibited.
Team vehicles must be parked in "Vendor" parking lot.
"People's Choice"
This portion of the event serves primarily as a fundraiser for Speedway Children's Charities-Atlanta Chapter. The People's Choice Award is an opportunity to be a BBQ Ambassador, interact with the public, and spread the love of BBQ. Please keep in mind, People's Choice is a big part of making an event a success in the eyes of the public and is a free competition for all teams participating. While cash prizes will be awarded, this portion of the event is intended to be a fun, casual time for sponsors, judges and the general public to interact with team members. Please be sure to indicate on your team application if you are taking part in the People's Choice competitions on Saturday and Sunday. Attendees come to events like The Atlanta Barbeque Classic to try championship quality food. If you bring more than the supplied 2 pork butts you do have the opportunity to get more votes than the team that just does the bare minimum.
Teams are encouraged to take part in the People's Choice Competition on Saturday and Sunday. All items can be cooked prior to show but must be re heated to a minimum of 165 degrees for 15 seconds and held at a minimum of 140 degrees. All cold items must be held at 41 degrees or below.
Teams participating in People's Choice must provide their own table. We will provide 2 pork butts each day, a disposable chaffing dish, sterno, and sign or flag indicating participation. We will also have a volunteer available to help serve if you request in advance.
Patrons must turn in a ticket to you to receive a sample. Please keep these tickets for collection. In addition, they will have a specific color ticket to vote for the BBQ they like best. They can sample Saturday and Sunday from one or all participants and then cast their vote for the BBQ they like the best. We will provide a container for tickets collection and will retrieve this from each team at 3:00 p.m. on each day.
Other than the safety requirements for temperature, there are no other rules for prepping and/or cooking the People's Choice items.