South Point Car and Truck Show
Saturday, August 18, 2018
10:00 AM -

6:00 PM
South Point Hotel and Casino Exhibits Hall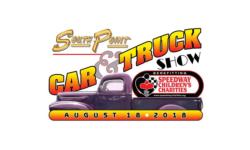 See some of the hottest rides in Las Vegas at the South Point Car and Truck Show, presented by Star Nursery, benefiting Speedway Children's Charities. Bring out the family for a day of fun and help raise funds for local children in need!
Cars, Bikes, Semi Truck Tractors, and Pick-Up Trucks are all welcome!
Awards will be presented for:
Best Club Participation
Sponsor's Choice
Children's Choice
South Point Hotel and Casino Choice Semi Truck
People's Pick-Up Trucks
People's Bikes
Registration is $35 per vehicle. Spectator admission is free!
Vehicle move-in will begin on Friday, August 17. Gas tanks must be 1/4 full and diesel trucks 1/4 full. Participants will be entered in a drawing to win a prize.
South Point Hotel and Casino is offering a special room rate for the weekend! You must book by Tuesday, August 7, using the link below:
Vendor booths are also available! To register or for more information, please call 702-632-8242.