2nd Annual Pace Vehicle Rides featuring Matt Tifft
Saturday, September 23, 2017
1:30 PM -

3:00 PM
SCC Tent in Kentucky Speedway Display Area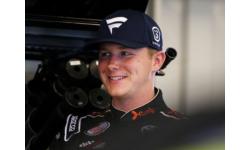 Come ride around Kentucky Speedway with NASCAR driver Matt Tifft as your pilot! Prior to the NASCAR XFINITY Series race on Saturday, September 23, Pace Vehicle Rides will be provided for a donation to SCC (fully tax-deductible), with Matt Tifft behind the wheel of an Official Kentucky Speedway Pace Vehicle.
$20 per person for pre-registration online
$25 per person on race day (if spots are still available)
VERY limited space is available for these pace vehicle rides. Therefore, online pre-registration is HIGHLY recommended. The online form is now available by clicking the "Register Online" button below.
Participants MUST be at least 10 years of age and MUST have their own ticket in hand for the NASCAR XFINITY Series race that night in order to enter the gates for the rides. All minors (ages 10-17) MUST be accompanied by an adult who MUST sign a release form on behalf of the minor prior to participation. All adults MUST sign a waiver prior to participation as well.
Online registration will be available until all spots are sold or until 8:00 p.m. Eastern on Friday, September 22, whichever comes first. If available, any remaining spots will be sold for $25 per person on a first-come, first-served basis at the SCC Activities Tent near Gate 15 at Kentucky Speedway between 1:30 p.m. and 2:30 p.m. ONLY on Saturday, September 23. As already stated, space is very limited, so spots are NOT guaranteed on race day.
Refunds will ONLY be given if the event is completely canceled due to weather; sorry, no refunds for no-shows!
For more information, please contact Dayna Winslette via e-mail at dwinslette@kentuckyspeedway.com or by phone at 859-567-3417.